Launch of a new project for DAD
11th January 2021
We are delighted to launch a new project focusing on positive travel.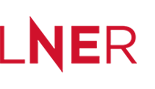 With funding from LNER, the Positive Travel Project will support disabled people and carers of all ages to tackle the barriers they face in accessing transport and travel in a variety of ways.
The project will offer a range of options including; individual travel training, group access to social and leisure opportunities for disabled people and families regardless of age or impairment, group participation to tackle issues affecting disabled people.
All activities will be fully accessible with the right support to enable people to participate.
We are looking forward to working with LNER over the coming months and supporting people to;
to access public transport who have not done so before
to be able to travel independently as a result of travel training
have access to leisure and social opportunities and have fun
develop new skills, learn new things, identify and tackle issues that affect them and have share them with the wider community.
Keep an eye on our website and Facebook page for more updates.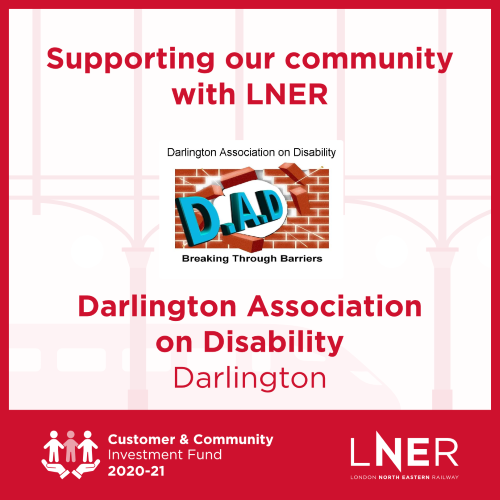 DAD - AGM : 4th February 2021
07th January 2021
Please join us at the Annual General Meeting of Darlington Association on Disability
on Thursday 4th February 2021
at 10.30am
via Zoom
Please inform us if you would like to attend the AGM, by contacting Judith, by email: judith.gledhill@darlingtondisability.org or by telephone: 01325 489999 so that we can arrange a Zoom invitation.
Copies of the audited accounts and annual report will be available for members which will sent out prior to the AGM once you have confirmed your attendance. If you are unable to attend and would also like a copy, please contact us.
I hope you can join us and look forward to seeing you.
New Lockdown Rules - 05.01.21
05th January 2021
Another lockdown…

Yesterday, the Prime Minister announced a national lockdown and instructed people to stay at home to control the virus, protect the NHS and save lives.
People will only be allowed to leave their homes for the following reasons:
shop for basic necessities, for you or a vulnerable person.
go to work, or provide voluntary or charitable services, if you cannot reasonably do so from home.
exercise with your household (or support bubble) or one other person, this should be limited to once per day, and you should not travel outside your local area.
meet your support bubble or childcare bubble where necessary, but only if you are legally permitted to form one.
seek medical assistance or avoid injury, illness or risk of harm (including domestic abuse).
attend education or childcare - for those eligible.
From today, all primary schools, secondary schools and colleges will move to remote learning, except for the children of key workers and vulnerable children.
The government is also advising the clinically extremely vulnerable to begin shielding again, and letters will be sent to individuals with advice on what this means for them.
All non-essential retail, hospitality and personal care services must close, or remain closed. Restaurants can continue delivery, takeaway or click-and-collect of food and non-alcoholic drinks, but venues will no longer be able to serve takeaway or click-and-collect alcohol.
Essential shops and garden centres can remain open. Entertainment venues and animal attractions such as zoos must close, but the outdoor areas of venues such as heritage homes and botanical gardens can remain open, to be used for exercise. Playgrounds may also remain open.
Places of worship can also remain open.
Indoor and outdoor sports facilities including sports courts, gyms, golf courses, swimming pools, and riding arenas must also close. Elite sport and disabled sport can continue, as can PE lessons for those children attending school.
The restrictions will come into effect today and are expected to last until the middle of February if the situation in hospitals improves. By this point, the NHS hopes to have vaccinated everyone in the top four priority groups identified by the Joint Committee on Vaccination & Immunisation (JCVI) – including older care home residents and staff, everyone over 70, all frontline NHS and care staff and all those who are clinically extremely vulnerable.

Vaccine information for people with learning impairments
05th January 2021
From NHS England Learning Disability and Autism Programme
The format of the film is our adviser Katie Matthews, asking our national clinical director Dr Roger Banks a series of questions about vaccinations:
https://www.england.nhs.uk/learning-disabilities/improving-health/
The film is 3 ½ minutes long so we have also produced social media clips for some of the questions so you can link back to the main film.
Here is a download link to the 5 social media clips https://we.tl/t-laSYneEY8f
Personal Protective Equipment animation and resources
01st May 2020
PPE
What PPE to wear when providing care out of hospital
This short animation shows you what personal protective equipment to wear when providing care (including caring for extremely vulnerable and shielded people) in care homes or caring for people in their own homes. It is based on Public Health England's recently published guidance:-
Putting on and removing PPE – a guide for care homes
This Public Health Education video includes a flowchart for care workers providing care to residents to identify whether there is a need for PPE, PPE recommendations for care home staff, and some frequently asked questions on the use of PPE in care homes
https://www.youtube.com/watch?v=ozY50PPmsvE&feature=youtu.be
Website for further resources
The above animation and video and further resources/links that may be of help to people providing care out of hospital are all grouped in this one website. Under the "resources" section are other videos including how to take someone's temperature, guides to help with your personal wellbeing, along with a training package on Covid-19 infection prevention and control. You can also download posters on how to take off PPE and on the "useful links" tab, there are quick links to other websites for further information/support eg E-learning for Healthcare:-
Direct Payments Help Line
30th March 2020
We know that this is a very worrying time for disabled people, particularly Direct Payment users.
We are putting in a range of support to be able to continue to support Direct Payment users at this time. If you use a Direct Payment and live in Darlington, Middlesbrough or Redcar and have concerns or queries our Independent Living Advisors and Lead Workers are available to support you by telephone and email.
You can contact us on 01325 360524 or 01325 489999 or email directpayments@darlingtondisability.org
Please be aware we are experiencing high numbers of call and queries at the moment so please be patient but we will respond to all.