DAD - AGM: 13th May 2021
16th April 2021
Please join us at the Annual General Meeting (2020)
of Darlington Association on Disability
on Thursday 13th May 2021
at 11.00am
Unfortunately, as we are still unable to hold meetings in person, we will be holding this event online.
Please inform us if you would like to attend the AGM, by contacting Judith, by email: judith.gledhill@darlingtondisability.org or by telephone: 01325 489999 so that we can arrange for a link to the online video meeting to be sent to you. Please inform us if you have any disability access requirements for a video link meeting.
Copies of the audited accounts and annual report will be available for members which will sent out prior to the AGM once you have confirmed your attendance. If you are unable to attend and would also like a copy, please contact us.
I hope you can join us and look forward to seeing you.
Changes to Christmas Bubbles
21st December 2020
Guidance for the Christmas period - GOV.UK (www.gov.uk)
The Government have changed the Christmas rules.
On Saturday, Prime Minister Boris Johnson came on tv to tell the country that the Christmas lockdown rules have changed. This is because the number of people getting Coronavirus is going up very fast.
A new Tier 4 London and some parts of the South East have been put into a new Tier 4. This is because lots of people there are catching Coronavirus. People in Tier 4 have to follow stricter lockdown rules.
In the North East, Yorkshire and Humber, our Tiers have not changed. People living in York and North Yorkshire are in Tier 2. Everyone else in the North East, Yorkshire and Humber is in Tier 3. Your lockdown rules stay the same.
The rules for Christmas support bubbles have changed. The Christmas Support Bubble rules used to be that from 23rd to 27th December that 3 households could spend time together.
This has changed.
We can only spend time with people that we do not live with and who are not in our support bubble on Christmas Day. The Government are saying we should stay local and not travel a long way to visit people on Christmas Day.
But it is important to follow the rules to stop people catching Coronavirus.
The Coronavirus bug is changing. The Government have said that the Coronavirus bug has changed. The new version of the Coronavirus bug is easier to catch. The Government say it isn't more dangerous than the first one and the vaccine should still work.
'Shielding' - new guidance
30th November 2020
This new guidance has just been published with differing rules in each tier..
https://www.gov.uk/government/publications/guidance-on-shielding-and-protecting-extremely-vulnerable-persons-from-covid-19/cev-from-2-dec
Shielding
You are not advised to follow this revised shielding advice unless you receive a new shielding notification advising you to do so.
We may advise more restrictive formal shielding measures for the clinically extremely vulnerable in the worst affected Tier 3 areas, based on advice from the Chief Medical Officer. This will only apply to some Tier 3 areas, and the government will write to you separately to inform you if you are advised to shield.
Further support will be made available from your local council and community pharmacies to help protect you during this period of heightened risk.
Hate Crime Week: 10th Oct - 17th Oct
14th October 2020
Disability hate crime is any incident or crime which is perceived by the victim or any other person, to be motivated by a hostility or prejudice based on a person's disability.

If you believe that you or any other person has been targeted because of their disability then please report it.
There are many ways to report hate crime.
If the matter involves an attack or serious crime which needs an urgent response, ring 999
If it is a lesser incident such as verbal abuse, ring 101
Contact your local police directly.
Contact Darlington Association on Disability on us on 01325 489 999 or email advocacy@darlingtondisability.org for support.
CPS - Who are we?
13th August 2020
"Have you ever been affected by hate crime? Ever wondered about why some HATE CRIMES make it to court and some don't? Do you want to know what the Crown Prosecution Service actually does?
The Crown Prosecution Service (CPS) are holding an online Q+A / Who We Are session on Tuesday 18th August 5:30 – 6:30pm. They would love you to dial in and be part of it. Contact Andrew Allison on 07384 797779 or Andrew.Allison@darlington.gov.uk to book a place.
If you'd rather e-mail your question and get it answered without taking part, you can do that too! Just let DAD know your question and we'll get the answer for you."
Have you been in hospital recently?
03rd August 2020
Tell us your views
During the coronavirus pandemic the usual processes hospitals follow to discharge you from their care changed to help free up beds.
While these changes have successfully got people out of hospital and helped the NHS manage the demand created by coronavirus, we want to know what this has meant for you.
To find out more about people's experiences of health and care during COVID-19, we recently launched our campaign #BecauseWeAllCare to encourage people to share their experiences of health and social care services in Darlington.
By telling us about your experiences of leaving hospital we can help services in Darlington improve the care they provide now, and in the future.
Share your views today in our short, confidential survey.
Share your experience
https://www.healthwatch.co.uk/tell-us-about-your-experience-leaving-hospital-during-covid-19-pandemic
If you or family have not recently been in hospital, please share this email with your friends, neighbours and networks so we can hear from more people about their experiences of care.
If you have any questions about this survey or our work please email info@healthwatchdalrington.co.uk to ensure this is picked up by the relevant staff members who will be able to help.
Covid19 Testing
26th May 2020
Testing is now open to any member of the public with Covid 19 symptoms by visiting nhs.uk/coronavirus or calling 119 to book a test.
Covid 19 Mobile Testing
28th April 2020
The Mobile Testing Unit will be back at Teesside Park from 2nd – 4th May so this can be used to book staff testing.
Update - testing for PAs and PHB holders
27th March 2020
The latest update from the Department of Health and Social Care is as follows:
All PAs are now able to receive a test, symptomatic or asymptomatic – as essential, frontline workers. The test is most effective in the first three days of infection (but can still be effective up to five days). So practically, any PA who is symptomatic, should get tested as soon as possible and any PA who is asymptomatic (but thinks they may have been exposed recently) can also now access testing. As before, PAs can either self-register, or be referred by their employer, with availability for both home-delivered tests, and drive-through testing.
All patients in the NHS, and residents in care homes can now access tests, symptomatic or asymptomatic. It has also been agreed that 'patients' extends to individuals with personal health budgets in place. Therefore, any personal health budget holders with concerns that they may have Covid-19 / been exposed to Covid-19, can now access these tests (via self-referral).
Individuals with just a personal budget in place, who don't have either a) a personal health budget, or b) a health condition that would constitute them being a 'patient', are not eligible to access these tests yet… unless they are over 65 and have symptoms, or are required to go into work because they cannot work from home, and have symptoms.
Message from Lauren
26th March 2020
Message from Lauren
Very proud of all our Key Workers at DAD! Thank you! Lauren Robinson, DAD Chief Executive
Free Online BSL training
25th March 2020
Doncaster Deaf Trust has launched a free online British Sign Language (BSL) course.
The online course, developed thanks to National Lottery Funding, will enable users to learn Level One BSL.
Alexis Johnson, executive principal of Doncaster Deaf Trust said: "We are thrilled to be able to launch this free resource for people during this unprecedented time.
Here is the link: https://www.deaf-trust.co.uk/news/doncaster-deaf-trust-launch-online-british-sign-language-course
DAD Support to staff, volunteers and users
16th March 2020
We want to make sure that our staff, volunteers and people we support are safe during the Coronavirus outbreak
As a result, we will be changing the way we work:
From Monday 23 March 2020 our services will not be doing home visits until further notice, unless it is essential, although we can still support you by phone using the usual numbers 01325 489999 or 01325 360524.
To protect the people we support and our staff and volunteers we are following the Government guidance and all activities at The Independent Living Hub at West Lodge, West Crescent have been cancelled, this includes Monday night sessions, Young Leaders, Mentoring for Independence, Subway Healthy Hearts, Short breaks and Skills for Care training, and sessions will not be running until further notice.
Peoples Parliament and all Direct Payment Peer Support Groups have also had to be cancelled.
DASH will not be running activities during the Easter holidays. All other services will be working as normally as possible under the current circumstances depending on the levels of staff available.
We have already arranged for all our staff who are at high risk to be at home and work from there if it all possible. We are actively planning what we can do to provide information and support people in this difficult time and will be in regular contact with people we support.
NHS Consultation Information for Stroke Rehabilitation and Ward 6 at Bishop Auckland
28th January 2020
The three NHS Clinical Commissioning Groups in County Durham and Darlington (NHS Durham Dales, Easington and Sedgefield CCG (DDES), Darlington CCG and North Durham CCG) have launched two public consultations to ask local people to share their views and ideas on Stroke Rehabilitation Services and Inpatient Rehabilitation (Ward 6) at Bishop Auckland Hospital.
There will be four public events for each consultation:
Stroke Rehabilitation public events
Saturday 25 January 2020: 10.00am - 12noon Bishop Auckland Football Club
Tuesday 4 February 2020: 6.00pm - 8.00pm Durham Town Hall
Thursday 6 February 2020: 10.00am - 12noon The Witham, Barnard Castle
Tuesday 11 February 2020: 1.00pm - 3.00pm St Augustines Parish Centre, Darlington
Ward 6 public events
Thursday 30 January 2020: 10.00am -12 noon Durham Town Hall event
Saturday 8 February 2020: 10.00am -12 noon The Witham, Barnard Castle event
Wednesday 12 February 2020: 6.00pm - 8.00pm Football Club, Bishop Auckland event
Tuesday 25 February 2020: 1.00pm - 3.00pm St Augustines Parish Centre, Darlington event
To book a place please go to https://northdurhamccg.nhs.uk/involve-me/ward-6-consultation/
Ways in which people can get involved
1. Complete the Stroke Rehabilitation consultation survey and Inpatient Rehabilitation (Ward 6) consultation survey
2. Visit the websites for full details on the consultation and to read the full consultation document: Stroke Rehabilitation Services and Ward 6
3. Sign up to MY NHS
4. Follow these social media platforms:
NHS Durham Dales, Easington and Sedgefield CCG Facebook and Twitter
NHS Darlington CCG Facebook and Twitter
NHS North Durham CCG Facebook and Twitter
If you have any questions please call the CCG Engagement Teams on 0191 389 8609 and leave your name, email address or phone number or email the team
We can provide versions of the consultation document in other languages and formats such as Braille and large print on request. Please contact the NECS Communications Team on 01642 745401.
Direct Payment Support Service Vacancies page update
24th May 2019
See the update Direct Payment Support Service Vacancies.
Mayor's Ball
01st May 2019
DAD Young Leaders supporting and rocking the Mayor's Ball with The Mayor, Cllr Veronica Copeland. One of the final events to mark the Mayor's year in office and add to the amazing fundraising for the three charities DAD, The British Legion and The 700 Club. Many thanks to Barcays Bank for match funding the funds raised from the Ball.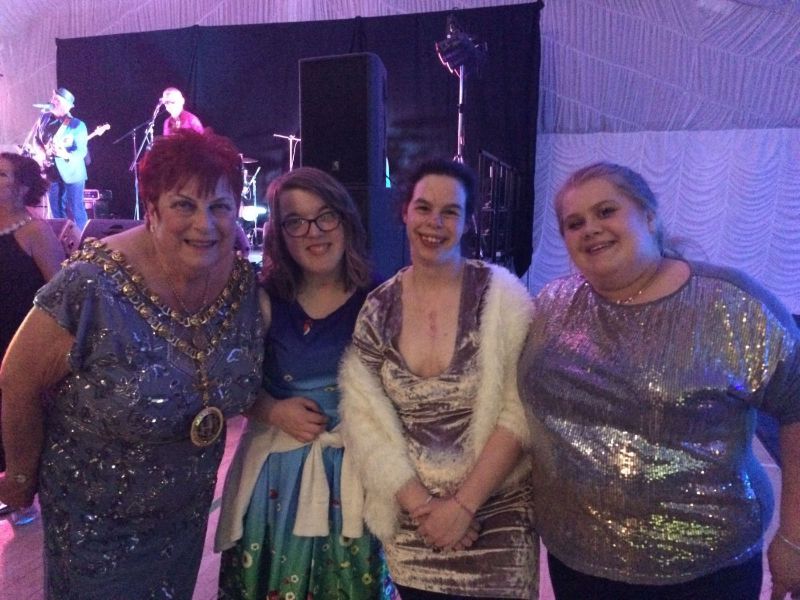 Visit to Town Hall
09th April 2019
Young People from DAD enjoyed a visit to Darlington Town Hall last week after being invited to visit by Darlington Mayor, Councillor Veronica Copeland.
The Mayor gave a tour of the Mayor's Parlour and talked to young people about the role of the Mayor and local disability history with the opportunity for young people to ask the Mayor questions.
They all really enjoyed the evening and thank the Mayor for inviting them.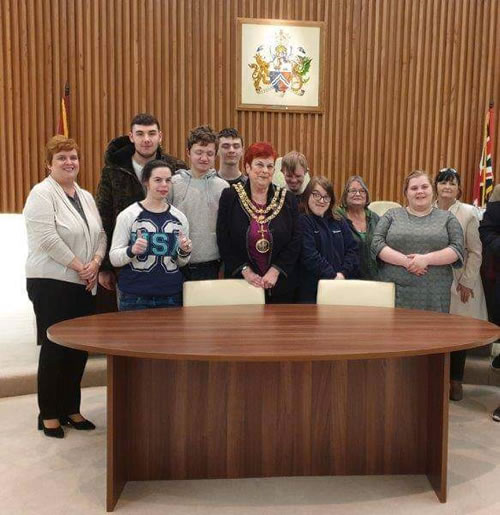 DAD invited to the opening of the new B&M Store in Darlington
03rd September 2018
As part of the opening celebrations, Darlington Association on Disability were invited along as VIP guests for the day and to open the new store.
In addition to opening the store, DAD also received £250 worth of B&M vouchers as a thank you for taking part and for all our work in the local area.
A big thank you to B&M for inviting us to be part of your opening celebrations and for the vouchers!